LEARN HOW TO REGISTER NECO GCE EXTERNAL EXAMINATION IN-FULL
You are welcome to hemmarblog.wordpress.com. Neco GCE is now released, here is where you can confirm your self for registration, you will learn and be a professional.
SENIOR SCHOOL CERTIFICATE EXAMINATION
(SSCE External)2018 Registration
 NATIONAL EXAMINATIONS COUNCIL
EXAMINATION ADMINISTRATION DEPARTMENT INTERNAL MEMO
REGISTRATION WEBSITE
Online Registration will as usual, be online using the NECO registration website
Candidates are to note that:
BIOMETRIC FINGERPRINTS WILL BE CAPTURED DURING THE REGISTRATION
THEIR FINGERPRINTS ARE CAPTURED CORRECTLY DURING REGISTRATION.
THOSE WITH MISMATCHED FINGERPRINTS AT THE POINT OF VERIFICATION WILL NOT BE ALLOWED TO SIT FOR THE EXAMINATION.
FULL EXPLANATION ON HOW TO REGISTER FOR NECO GCE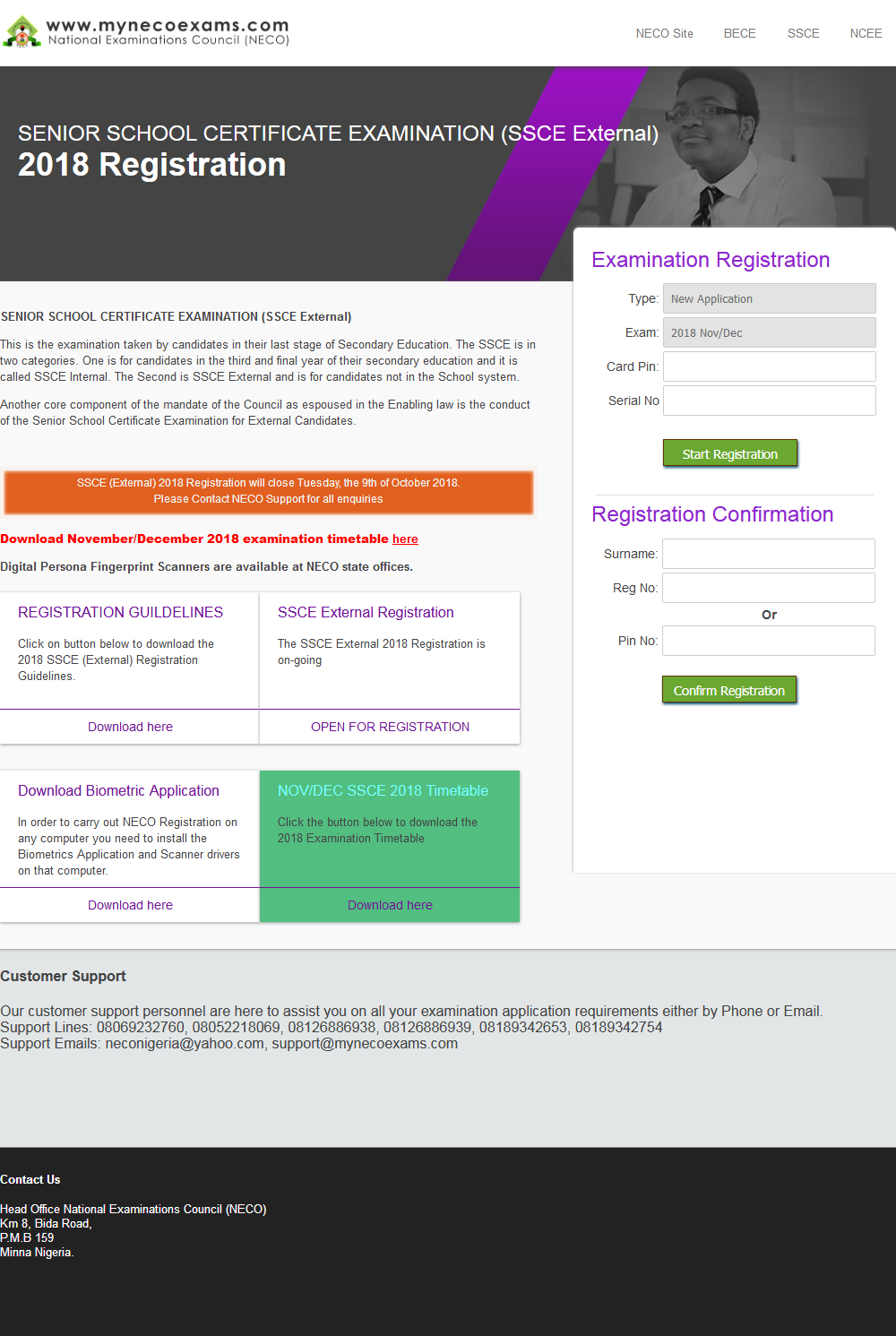 Then you will click download biometric application,  (you can also click this download biometric application to download it) after then this will been shown;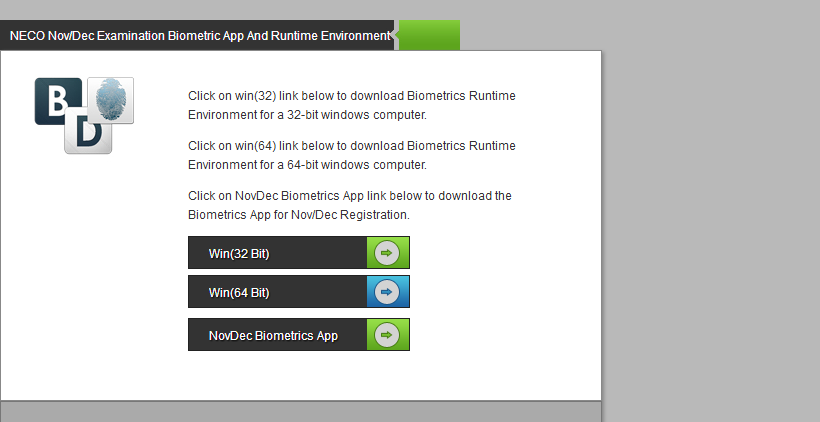 NOTE: (make sure you check your system operation bit) Click on NovDec Biometrics App and click on any one of Win(bit) located, to Download and then install them in to your system, but make sure that you choose the one that resemble your own system bit.
Square 2: Now after your installations, then take a login to Jamb site. NOTE; "the link to Jamb will be founded in the last page"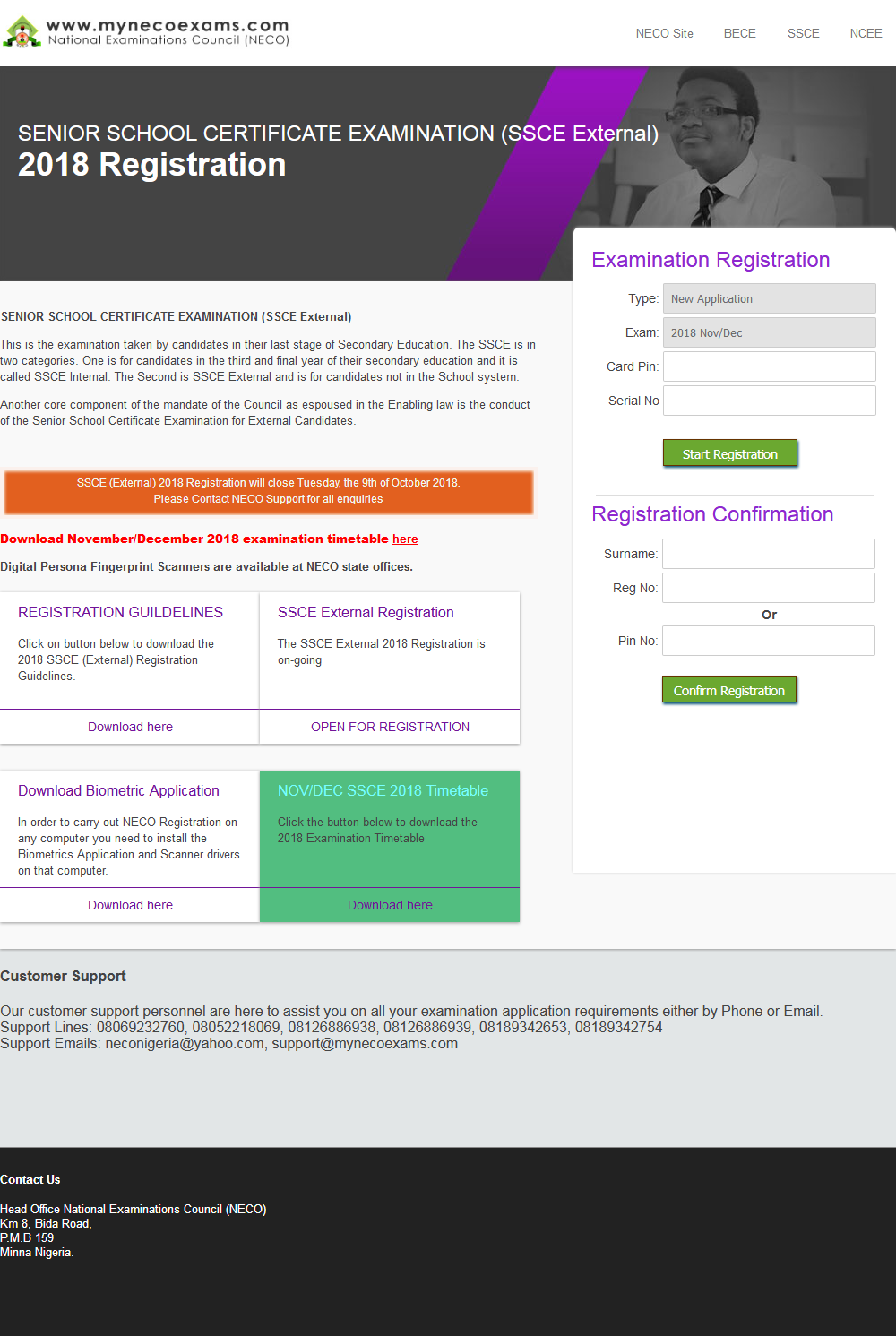 (Step 1) Fill the first phrase field with your registration card, and then click start Registration you will be tacking to here.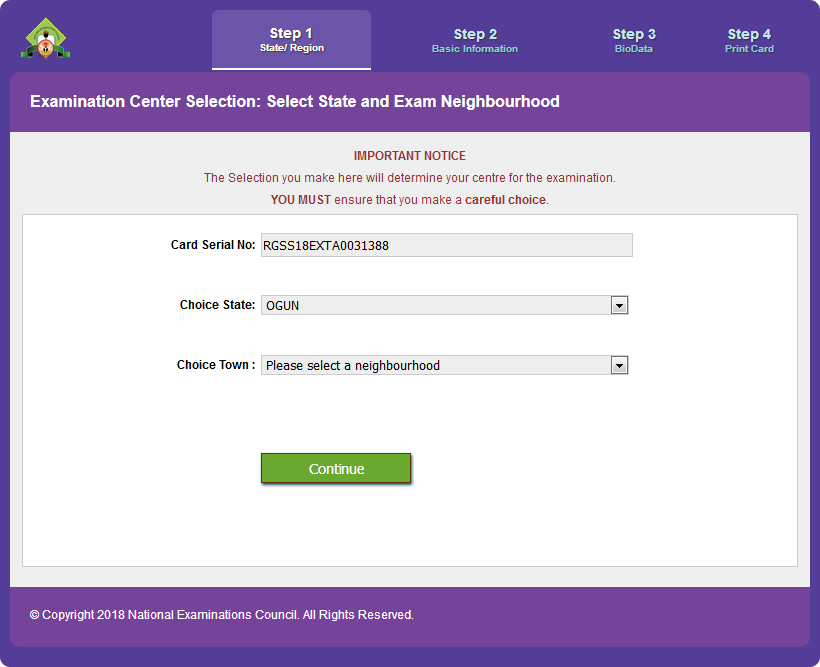 Fill the required fields then continue. 
(Step 2)  Your continuation link will lead you to here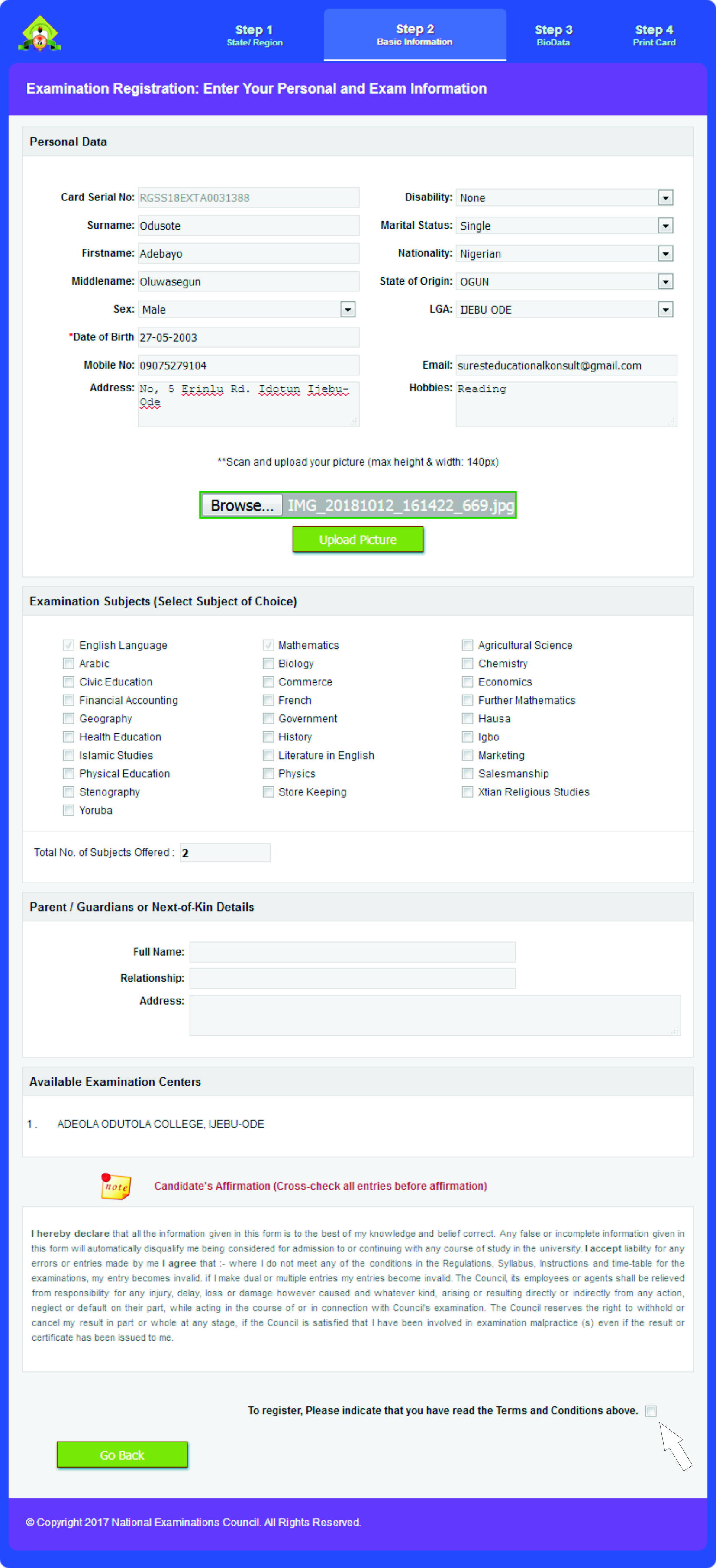 Fill those fields without making any mistakes; Edit your passport Height & Width by 140 before uploading. And go straight down and den click on were the navigation arrow been founded.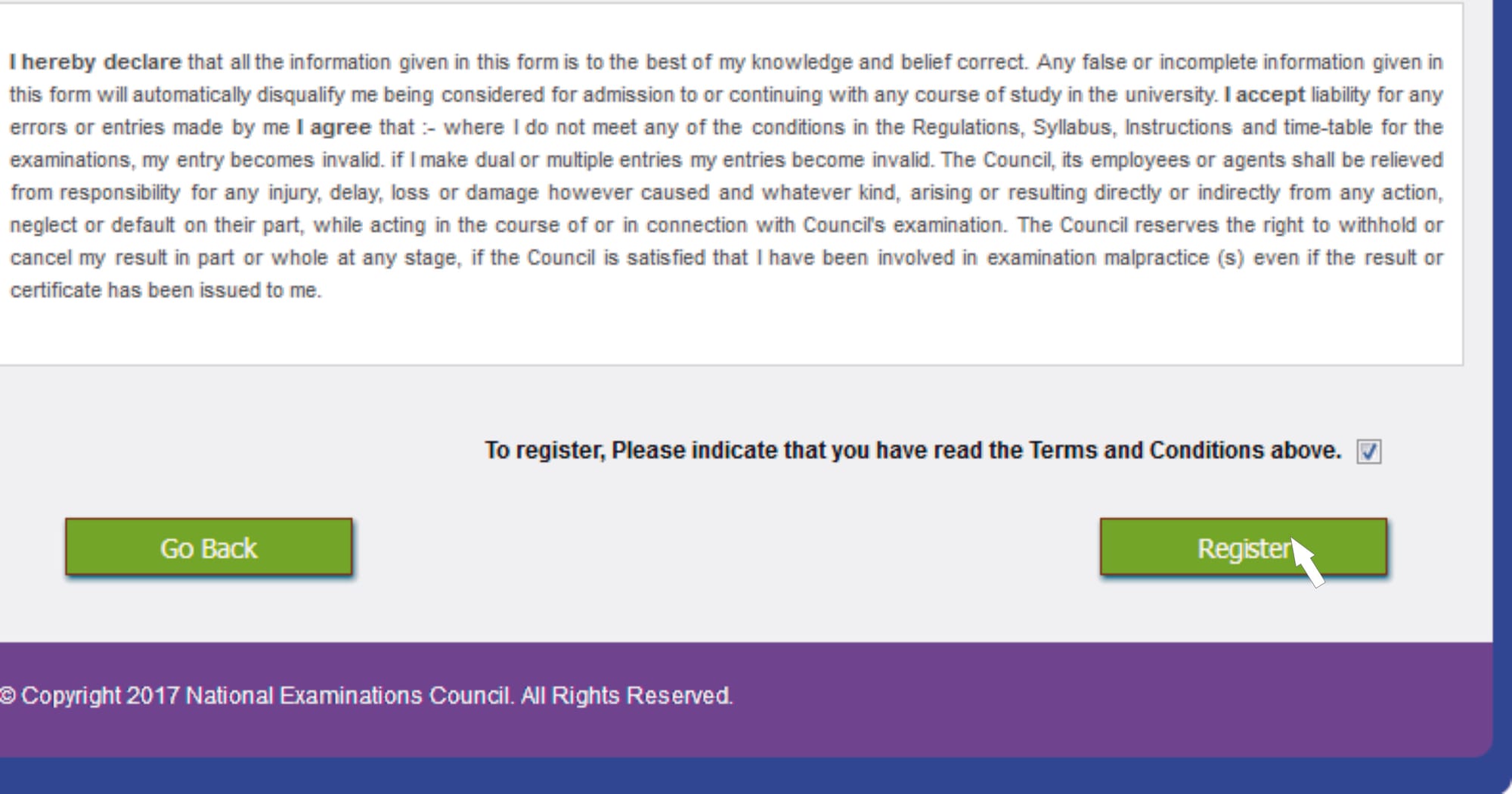 Then click register.
(Step 3) This will be done in the Biometric data the one that you're asked to download and install in the order phrases. "The Biometric Image has been founded below", You will first input your Registration pin and serial number founded in your Neco card, and then click on validate button, be looking at under  the fingers diagram you will see your validation loading there, wait for a few minuet while loading , until it display's  your Passport and Names. When your data appears den click on start button and start finger printing your fingers required step by step. After you successfully finish your finger print, just click on submit button located, wait a Few minuet this will appear  two times successful validated, it has successful submitted den you can go back to your online to finish your registration.
Click on NEXT button,
Don't Next until you finish your Biometric or if you have pressed Next before your biometric don't just leave it there and continue your Biometric, after successful of your Biometric you can go back and logout the online registration and go to second line by confirming the registration pin and then print (this has been showing in first step) get your log out in 4th step
(Step 4) It will relocate to here;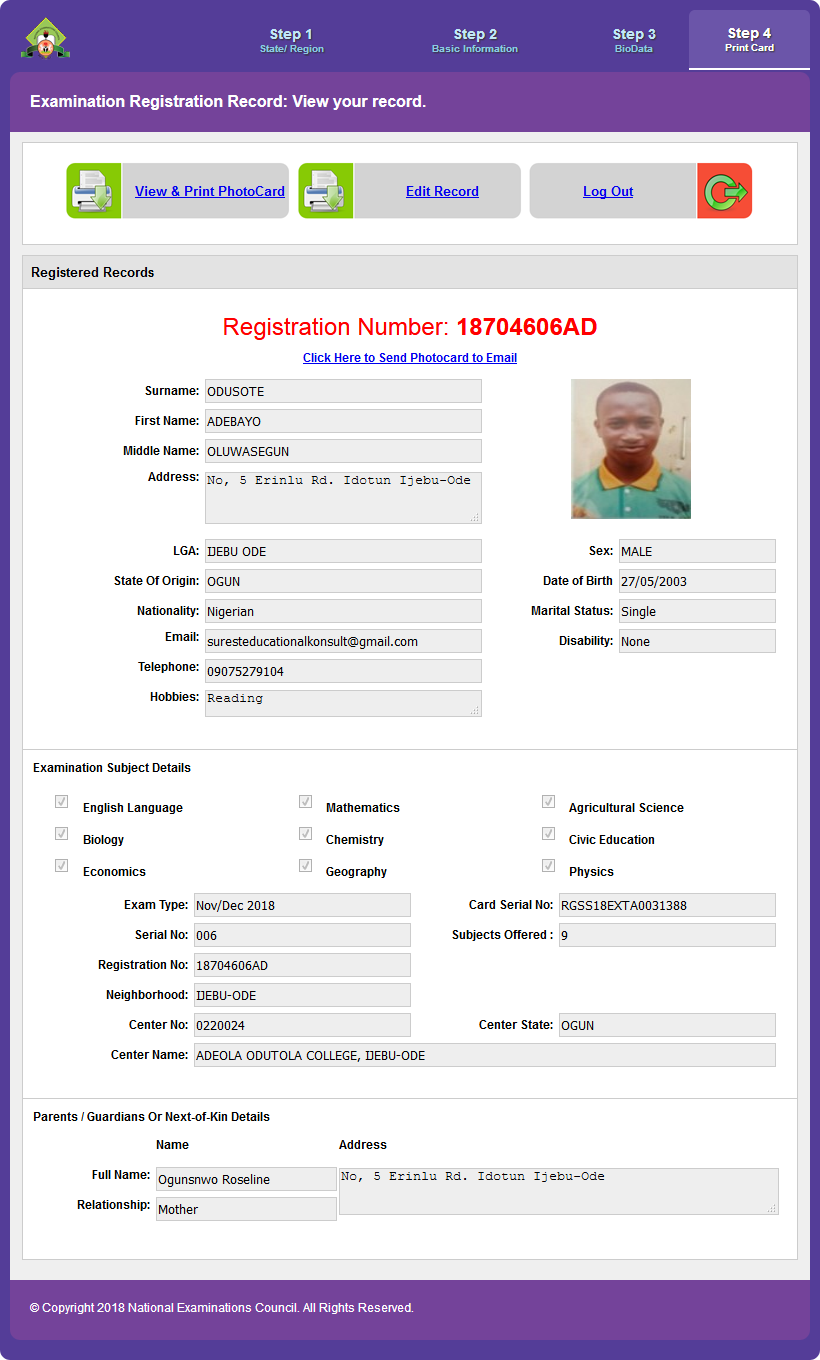 Here is the end of your registration, now you are about to print your photocard. Click on Preview & Print Photocard

Like this your Photocard will display then you can print it with time table. click here to start your registration (In case If there is any "Help" you need just ask in field located under-post)"release your comment"
TO BUY REGISTRATION CARD OR MORE FILL THIS